10 Curious Facts That Everybody Ought to Know Before a Virtual Tour of Santorini, Greece
We have been writing about different destinations that our trippers have suggested as their favorite Dokodemo Door Trip VR destinations.


Examples include Iguazu Waterfalls in South America, Milford Sound in New Zealand even the Seattle City Tour . Still, we have discovered a new destination that our community has recently been talking about, and that is SANTORINI.


The famous Greek island is located in the middle of the Aegean Sea, with picturesque clifftops and sunsets that contrast perfectly with the Greek church buildings.


Imagine for a second that you are there taking one of those perfect Instagram pictures while you tasting wine—but not just any wine, a wine from one of Europe's most distinctive wine regions and home of the oldest vineyard on the continent. 


However, there is a lot more to discover than Instagrammable spots. The island offers history, architecture and culture, and is an important source of jobs for the tourism industry. You will also be surprised to learn how tourism has negatively affected the island.


Becoming a VR traveler can also be an excellent alternative to visiting the island without crowds and getting a taste of this piece of paradise that everyone falls in love with. 


Here are the main facts that attracted our attention, and our tour guide Anita can share much more during herSantorini Virtual Tour.


Let's see how many of these facts you didn't know!


1) The Legend of Atlantis
 Its believed in some myths that the island was associated with the legendary Atlantis. Yes, the Atlantis from Plato's dialogues Timaeus and Critias. Still no clue what we are talking about?


Let's refresh your memory. According to National Geographic the Atlantis legend is described in this way:

Plato told the story of Atlantis around 360 B.C. The founders of Atlantis, he said, were half-god and half-human. They created a utopian civilization and became a great naval power. Their home was made up of concentric islands separated by wide moats and linked by a canal that penetrated the center.

A fascinating theory indicates that the island of Atlantis would be found in the Eastern Mediterranean, precisely in the archipelago of the Cyclades Islands, in an area now occupied by the island of Santorini.


The history of Santorini is rich and full of exciting myths and mysteries. Santorini was occupied by many civilizations throughout its history, but its most influential early inhabitants were the Minoans.


It's these stories that draw people from all over the globe to Santorini. 


2) Santorini, Greece island with an explosive beginning
There are thousands of Greek islands, but there are very few as popular as this one.


While the island is most commonly known as Santorini, it also had several other names in the past. The official name is  Thira  or  Fira  and it's part of a cluster of over 8 islands. Fira is the capital of Santorini. 

The island sits in a water-filled caldera that was formed by a violent volcanic eruption in 1614 B.C. Calderas are giant craters formed when volcanoes erupt and it is believe that Santorini is one of the biggest in the world.

But behind this fact there is a difficult past that is explained by the Canadian History Museum like this:

The explosion, estimated to be about the equivalent of  40 atomic bombs or approximately 100 times more powerful than the eruption at Pompeii, blew out the interior of the island and forever altered its topography.

Possibly as many as 20,000 people were killed as a result of the volcanic explosion. Just as happened at Pompeii centuries later, a settlement on Thera known as the town of Akrotiri was buried under a thick blanket of ash and pumice.

With that information in mind, now will make sense of the next fact and why we told you that Santorini is one of Europe's most distinctive wine regions.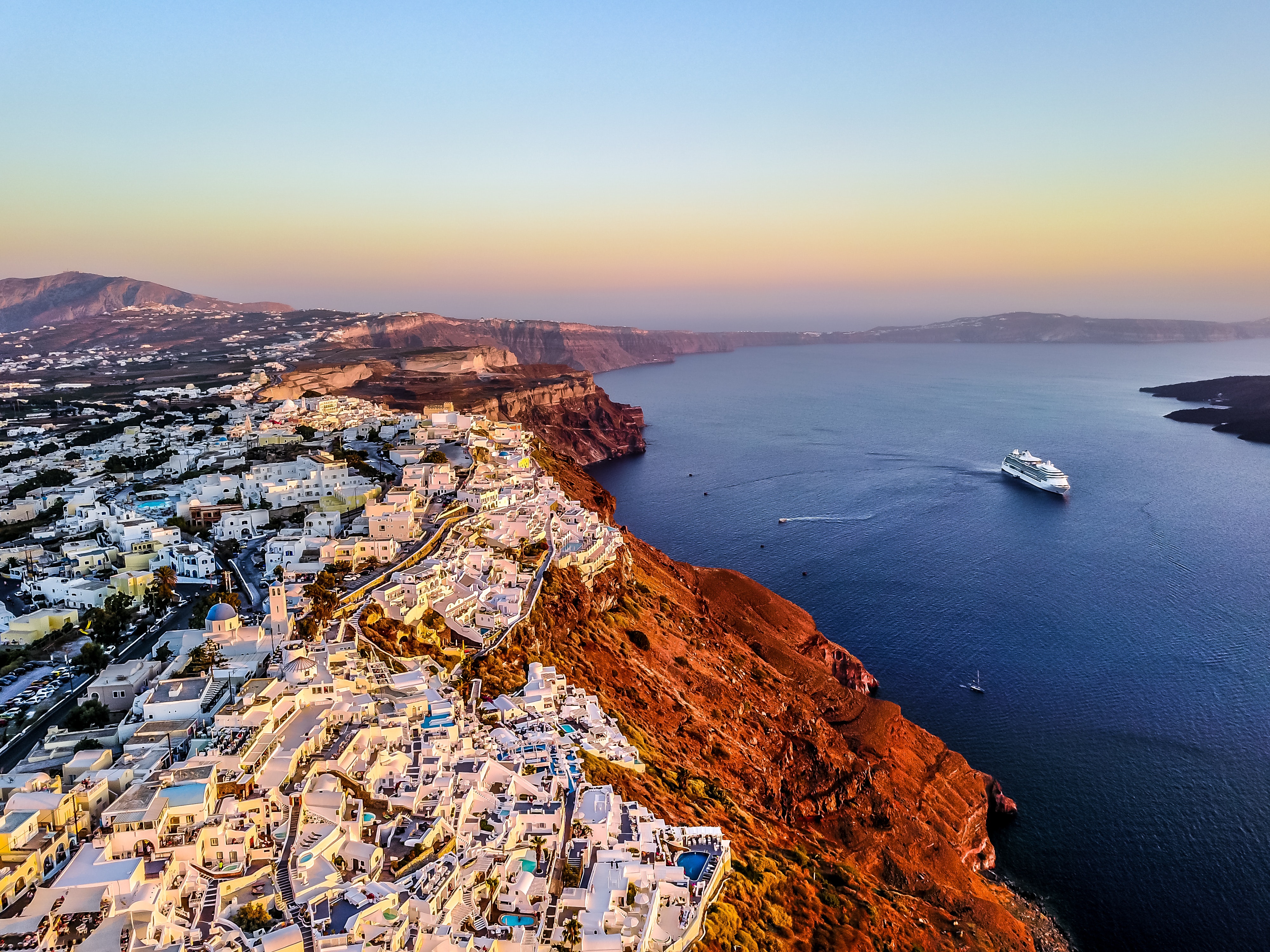 3) There are over 100 different kinds of grapes
These wines are described by tourists as being unlike any others around the world. 

There are more than 100 varieties of grapes that are native to this beautiful island. 

Despite the arid and hot climate, the soil provided by the volcanic surroundings and minerals not found in other types of soil like volcanic ash, pumice stone, and tiny pieces of solidified sand, make it ideal for growing grapes.

Another interesting fact is that it doesn't frequently rain on the island, so they get moisture from Sea Fog. Yes, that's right, sea fog. The fog is an odd occurrence that is a result of the air around the active volcano, and the moisture is absorbed into the mineral-rich soil. 


4) Top things to do in Santorini
Walk in the famous villages like Oia (the one you will visit on the virtual tour). Locals also recommend exploring other traditional villages like Pyrgos and Emporio.
On the sunset boat tour—luckily introduced on the virtual tour—you will enjoy a boat ride that will give you a different perspective of the island.
You will also enjoy walking on the beach and relaxing to the sound of the waves and the ocean view.
As we mentioned before, Santorini is famous for its wine. Wine tours will teach you all you need to know about Santorini wine.
Experience the luxury style of the island while shopping for jewelry, staying in cave room at a hotel or dinner in fancy restaurant with a beautiful view.
5) Santorini has 3 different types of beaches
Santorini is one of the few places that has not only powder-white sandy beaches, but also red and black sand as well. 

The black beaches of Santorini are a mixture of black sand and tiny black pebbles, and as the beach extends into the water, the black pebbles gradually become larger. 

The Red Beach is by far the most famous beach in Santorini, especially because the volcano far beneath the surface the water makes it very warm, and the massive red wall creates the most beautiful and picturesque scene.


6) Frescos Paintings
If you are unfamiliar with art concepts like fresco painting, the definition according to britannica.com about this type of art found in Santorini says: 

A fresco painting is "a method of painting water-based pigments on freshly applied plaster, usually on wall surfaces."

Some of the frescoes here depict beautiful young women dressed in dazzling style.

One fresco in Akrotiri depicts a naval engagement with soldiers equipped with spears, and several people tossed into the sea from an apparent shipwreck. 

If you are an art and history lover, let us tell you that people visit the Prehistoric Museum at the Fira and Akrotiri excavations to have a vivid experience of the advanced civilization that might have been the lost city of Atlantis from a million years ago.  

Frescoes are part of the amazing culture and historical heritage of the island.


7) Celebrities have flocked to Santorini since the early 1960s
Celebrities love extravagant getaways, and the archipelago surroundings make it a key place for the rich and famous to relax, revel in the nightlife, or just sail away on their yachts.

Many A-list celebrities choose to rent private yachts that are fully staffed, as this allows them to be out of the direct view of the public and gives them much-needed privacy. 

One example of this is Marvel superhero actress Scarlett Johansson, who hires private yachts to the island hub, with such yachts costing upwards of $69,000 per week. (Source: People.com)


8) It's all not picturesque
Its cobalt blue waters and breathtaking sunsets certainly draw people to the island of Santorini, but it's most definitely not without its flaws. Santorini has a disturbing amount of trash, there is no system in place to recycle and with the constant influx of tourists from around the globe, recycling, unfortunately, isn't very high on the list of priorities for many. 


Some of the streets are littered with crushed cans, discarded food cartons and wrappers and plastic bottles. According to The Telegraph:

Emissions from cruise ships and other vessels on the Greek island of Santorini pose a significant danger to public health, a critical new report has claimed.

On the other side, one resident campaigning for a better future for Santorini is Michael Ermogenis, a Greek-Australian who has lived on the island for the last 12 years. He is the founder of the Save Oia campaign, which raises awareness of the need for more sustainable management of the island.


9) Are there more tourists than the island can handle?
According to the Guardian Magazine , more than 2,000,000 tourists visited the island in 2017. Half of the visitors arrived primarily on charter flights from European capitals. A further 850,000 visitors come on cruise ships every year.


This worsens the traffic situation with constant traffic jams. The increased water consumption is continuously driving up the prices of accommodation on the island, and Airbnb  has pushed up housing prices so much that employers are having to build new accommodations just for their staff, on top of the environmental issues.


In 2018, Urban Adventures Santorini suggested 4 practical ways you can be a better traveler and help preserve the island for future generations:


1. Don't stay in Fira or Oia. Spread the tourist love and enjoy a more relaxed experience by staying in a different town. 

2. Visit during off-peak seasons. By visiting out of season you're ensuring that tourism is benefiting locals all year around, not just for a few months each year.

3. Take a tour with Santorini local tour operators. Take a tour with local operators, safe in the knowledge that locals outside the main touristy spots are also receiving a piece of the tourism pie.


10) Santorini is a booming tourist destination
With the economic crisis touching many parts of the world, Santorini hasn't gone unscathed by the fall of the economy. 

In 1956 many of the island's inhabitants were forced to leave because of a catastrophic earthquake. 

However, due to the steady trickle of tourists in the 1970s, the island slowly began to come back to life, but in 2015, the Greek economy took another hard hit. Believing the country to be in a crisis, the cost of traveling to Greece dropped significantly, causing the economy to slowly revive.

Because of the influx of tourism, Santorini strives to reduce the use of as many natural resources as possible, with efforts ranging from saving rainwater to water gardens and fill pools to using passive solar systems to heat homes in the colder months.

These progressive ways of enjoying such a beautiful location with little damage to the surrounding environment have caught the attention of other vacation spots, which are also beginning to follow suit. 

There is still so much more to discover about Santorini, one of the most popular destinations in the world. 

Also, check out what Teresa, one of our VR trippers, had to say about the virtual tour of Santorini:


Santorini is such a beautiful place!! Although it has been widely introduced on TV or in magazines, with a VR headset, I felt like I was there! Anita, the guide, was well prepared and shared a lot of useful information with us! No matter whether you just want to experience the beauty of this place or if you will actually visit Santorini in the future, I highly recommend that you join this online tour to find out more!

Teresa from Taiwan


We hope to inspire you to visit Santorini, Greece from the the comfort of your own home. You can also invite friends and family to join you online.