'DOKODEMO Door Trip'
Customer Review
Australia / Great Barrier Reef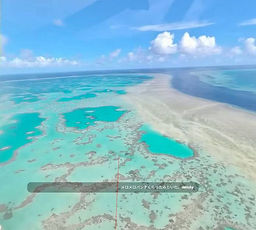 Cute Guide Rosalin from Australia
I told the guide to call me "Mitchy," and there was a superb view of the heavens tonight, and I am an old man who wants to visit the cute Australian Guide Rosalyn!
(Male, 40s)
Taiwan / Jiufen
Take photos during the VR trip ♪
When I noticed something suddenly during the tour, I took a photo and enjoyed feeling like a tourist by taking commemorative photos.
From now on, I would like to raise my VR travel memories a little bit.
Mitchy's VR travel Photobook. First of all, Jiufen.
Singapore / Super Tree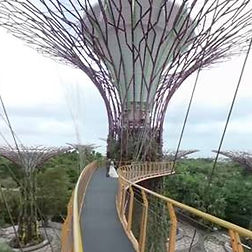 Charter a tour full of highlights!
First of all, Jay, the Guide, introduces himself by using slides.
In addition, it is easy to understand in both English and Japanese.
Following this, as an introduction to Singapore, I thought it was easy to understand and the Guide was well prepared to explain information about Singapore and the flow of the tour. I didn't know the origin of Singapore.
The bridge crossing to Marina Bay Sands, if you think it's cool and look at it, it's called a "spiral bridge" or "DNA bridge."
I'm surprised at the attraction of the canal inside Marina Bay Sands! The tickets were about 800 yen. I want to ride it.
I'm surprised at how to get into the newest attraction, APPLE STORE.
From the rooftop, the Orient Express, which is a separate tour, looked a little bit tangled.
And on to today's main event, Super Tree.
The shape is like the Baobab tree in Madagascar.
It's almost 25 meters high, so I wonder if it's about the same height.
The Guide said that there is a pathway connecting the trees at that height, but I thought, "I'm so nervous," but he just looks bright and fearless, and there's a handrail, so it's okay. That's true.
I hear that this pathway, OCBC Skyway, costs 8SGD, but it is something you should do.
Today's highlight, the light and music show! They say it will be held twice every night around 8 o'clock and 9 o'clock, and they don't do the same program every time.
It was great enough on a PC, but I want to see it in VR.
From the slow Waltz of the Flowers to the up-tempo Heaven and Hell.
They say the sound comes from from 68 speakers attached to the tree.
Ah, I want to hear it in person! I want to see it! It was a fun tour.
(Male, 40s)
Hungary / Budapest
Lots of highlights [Budapest, the second most beautiful city in the world]
When you see a famous spot and say, "What's this?" the screen changes to the next place before you understand it.
The automatic translation cannot keep up with it, and since then it has been flooded with letters, so I can't read it. No matter how I think about it, it's a lot of volume that is packed into 30 minutes! It's not dull! It's completely packed, and I don't think I can digest it at all even if I participate twice.
Before the tour, I couldn't find out if I could enjoy it without some kind of preliminary preparation. The tour explanation also says "Hero Square, Danube River, Liberty Bridge, Great Market Hall, Szechenyi Baths, etc." So many things were announced.
After the tour, I was shocked by my lack of knowledge and I looked into many things, but I thought I would like to study and do better next time (several more times).
It's not like a TV show or a promotional video, because there is staging where the Guide comes close from a distance with the camera.
When I read the guide's self-introduction, I was saw that he was screenwriter and filming TV programs.
I am satisfied.
I'm expecting more tours in the future.
Additional note Budapest subway, was introduced as "the oldest subway in Europe."
There was a comment saying, "Isn't it London?" When I looked into it, it was the first subway in the world to run on electricity.
(London is a steam locomotive)
(Female, 30s)
Vietnam / Dray Nur Waterfall
Rush into the hot waterfall-Enjoying a two-person trip with a guide ♪
Waterfall tour was just for me.
It was extravagant, but I was a bit nervous because I prefer listening to people talking.
If you pay the entrance fee and enter, there is a souvenir shop and a restaurant.
A little further, is photo spot that it is popular among teenagers.
Both Vietnamese youth and Japanese youth feel the same way.
And when Indra Wu said volcano, the subtitle became "Pokémon" for some reason. "It's not Pokémon when I see the subtitle," insisted Indra. But going with the flow and wearing a red raincoat, she said, "I'll become a water Pokémon from now on!" and rushed into the hot waterfall in everyone's reviews. It was amazing.
I definitely want to see this in VR! There were many places where "swimming is prohibited" partly because you would slip on moss, etc., but there are places where you can swim, and they even have floats for you to use.
In a place where you can swim in the twin waterfalls, you can also BBQ nearby, and Indra said that he had a lot of fun coming here with his friends before corona.
That's right, I hope you'll be able to live as soon as possible.
(Female, 40s)
Switzerland / Interlaken
Pretty and attractive European architecture
I lived near this place 17 years ago, but there was a lot of scenery I didn't know.
I may visit if when I could afford to drink a cup of $20 coffee.
(Male in 40s)
It was a tour on a nice day with good weather.
Of course, there are European buildings standing side by side no matter where you look.
It's cute anyway.
It's a city that celebrities love to live in, and celebrities can be seen here and there.
Each building has its own cute design, and the streets made of such buildings have their own flavors.
Europe is good after all.
On the contrary, when I was on frequently business trips in Germany, my local colleagues took me to see a lot of things, but at that time my reaction was just, "How lovely!"
I want to hit the me of that time!
(Male, 30s)
Austria / Vienna
Vienna was beautiful after all
I've said it was too hot many times, but the weather was awesome and everything was beautiful.
Here too, it's a super VR projection tour! There were scenes that looked really big.
I envy people who can jog in such a place. It's a good life.
(Female, 30s)